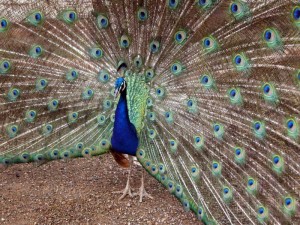 Species: Pavo cristatus
Common Name: Peacock
Natural habitat: India
Natural foods: Grain, insects, small reptiles and mammals, berries and crops.
Life expectancy: 15 years
Other comments: Bird of India. The males elaborate tail is formed from 100-150 tail feathers. The males will use their bright colours and dance moves to impress the females enough for mating. The females will choice their mate based mainly on the most extensive feathers, colours and dances of the males. The spot-like markings on their tails resemble eyes and are used to scare away predators.