MANSFIELD ZOO IS CLOSED UNTIL FURTHER NOTICE!
Any updates will be posted to our Facebook page.
Welcome to the Mansfield Zoo
Mansfield Zoo is one of North East Victoria's hidden secrets, with a large collection of exotic and native animals on 30 acres of picturesque parkland featuring lovely views across the Delatite Valley to Mt Buller. Hand or spade feed many of the animals as you wander, including monkeys! Meet Hobbs, our mischievous capuchin monkey and Basil the chocolate camel, who loves to steal spades. Wander with Emily and Miss Greedy, our friendly fallow deer, and Joey the Grey Kangaroo, just some of the animals who will interact with you as you stroll around. Bring along family, friends and a picnic lunch and bbq in our undercover facilities. For those who are more adventurous, stay overnight in a swag and fall asleep to the wonderful night sounds of the lions and other animals!
We are open every day except Christmas Day, and give you a day pass so you can come and go on the day of your visit.
Our White Lions, Djuma and Matimba, are now settled in to their new home at the zoo
It is a privilege to have these wonderful animals in our care. Their unusual coloring is due to a "chinchilla gene", which gives them the white-blonde coat and blue eyes. Our two boys are only young – 6 years old – and we look forward to them being here for many years to come. Hear more about them and see them being fed each day of the weekend and holidays. They have also now been joined by our two tawny lions, Rubani the lion and Delilah the lioness.
Mansfield Zoo History
Mansfield Zoo commenced in early 2000 as a wildlife park with deer and Australian native animals. Over time the collection of animals grew and the Zoo now boasts over 100 native and exotic animals. Most of our animals can be hand-fed by visitors, which is a rare and very rewarding treat for animal lovers of all ages. We now also have accommodation for the intrepid, with 'Swagovers' in the Zoo.
Mansfield Zoo Team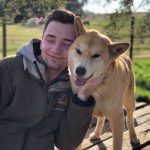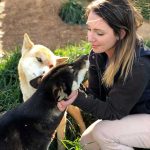 The Zoo is owned and operated by Bronwen Wilson and David Murphy. Bronwen and her son Jordan and daughter Alisha embarked on their animal-lover's journey to Mansfield in December 2005. Day to day activities at the Zoo are also carried out by our many helpers, from work experience students at local schools, Universities, TAFE's, and Timbertop, to Willing Workers on Organic Farms (Wwoofers) from all around the world.
Stay up to date with our Facebook feed at the bottom of the page.
Lion feeding: 1.30 pm weekends and Victorian holidays.
Meerkat feeding: after the lion feeding on weekends and Victorian holidays
New Years Eve: 7.00 pm with the Zoo open until 10 pm on New Years Eve only.
Overnight Camping: Tents/swags only, September 1 to May 31 each year